Meet our team of caring and committed professionals.

Emily Brown
Executive Director/Registered Nurse
Emily grew up on a farm outside of Mayville, North Dakota. After graduating from high school, Emily attended Lake Region State College where she earned her Associate RN degree. She later attended Rasmussen and graduated with her bachelors of science in nursing. She has worked in long term care settings since she was 14 years old. She is currently living in Hillsboro, ND with her husband and dog (Bruin). In her free time, she enjoys going to the lake, spending time with family, and decorating.

Madison Winterquist
RN/Clinical Director
Madison is our Clinical Director at Ecumen Evergreens of Fargo and Moorhead! Madison was born and raised in the Fargo-Moorhead area. Madison completed her RN from Rasmussen and Bachelors degree from University of Mary. Madison currently lives in West Fargo with her fiance and dog Maralyn. In her spare time, Madison enjoys golfing, going to the lake, and spending time with her family. "My favorite thing about my job is the relationships that I am able to build with our resident's and their families. The home-like atmosphere that The Evergreens communities have, has allowed me to get to know our resident's personally."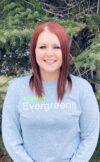 Whitney Streifel
RN/Assistant Clinical Director
Whitney grew up in West Fargo, ND. After graduating high school, Whitney attended the University of Jamestown where she obtained her Bachelor's of Science in Nursing. Whitney joined the Ecumen team with nursing experience in the clinic setting, hospital setting and in long term care. Whitney lives in West Fargo, ND with her fiancé, two daughters, and dog. In her free time Whitney enjoys spending time at the lakes in the summer, playing outside with her children, golfing, and spending time with family.

Amanda Dertinger 
Sales & Marketing Manager
Amanda earned her Bachelor of Science Degree in Microbiology from North Dakota State University. She came to Ecumen with ten plus years of sales experience. Originally from central Minnesota, Amanda now lives in Fargo with her husband, son and two dogs. In her free time, she can be found spending time with her family, working with her family horses, reading a book or drinking coffee.

Ashley Holm 
Licensed Practical Nurse (LPN)
Originally from Fargo, Ashley received her LPN and RN from NDSCS. She lives in Rothsay with her husband and son. Ashley joined the Ecumen team with experience as a nurse in the clinic setting. In her free time, you can find her reading, doing home improvement projects, painting, spending time with her family, and playing with her son.

Julie Sulvedt
Life Enrichment Supervisor
Julie is from Lengby, Minnesota where she spent her childhood growing up on her grandparents farm. With her 15+ years of experience in elderly health care she joins our team as our Life Enrichment Supervisor. In her spare time she loves to sing karaoke, and working on various papercrafts.